About us
---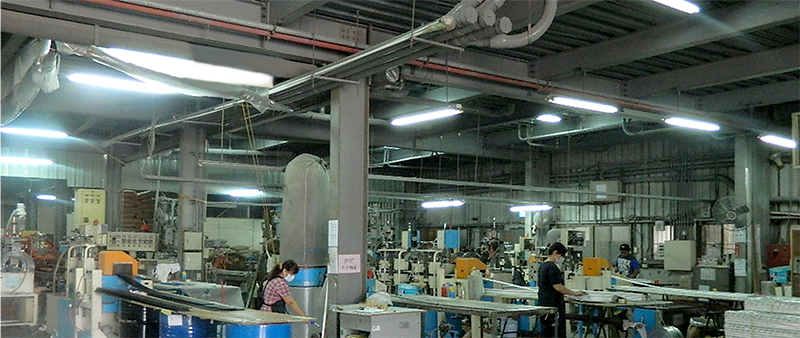 Taiwan Hwan Yi Precision industries Co., Ltd.
Taiwan Hwan Yi Precision Industrial Co., Ltd. was founded in 1981 as a professional plastic extrusion manufacturer, until now the company has been in operation for 35 years. We have the most professional research and development team with complete and advanced production equipments, as well as good reputation in this field.
We can provide consistent and excellent quality products manufacturing from plastic resin to finished products, all through our streamlined operation flow.
At the beginning, the company manufactured mainly decorative plastic/aluminum strips for electrical appliances and automobiles/motorcycles. As more production equipments were dedicated to the plant, the production expanded to included plastic strips needed for office table, conference table, school desk, and partitions…..etc
In 1994, a new plant was built in Taoyuan for professional production of all varieties of furniture doors, ceiling molding, skirting and various frame.
The company presently has nearly 30 production lines. In addition to the original plastic materials PVS, ABS for production, we have professional research and development team that can provide according to the product needs of our customers a comprehensive range of TPA products from such soft hardness and low toxicity PVC (in compliance with RoHS Directive) PS, PC, PP, PE, TPE, CAB and PMMA.
Besides the plastic extrusion shaped products, we can also match with our customer needs in product surface treatment, surface lamination, and co-extrusion technique to develop high quality and competitive products.
In recent years, we have been even more dedicated to the research of TPA products such as high transparency PC roller shutter strips, high efficiency light expansion LED lamp shades, decorative trims for channel letters of LED advertisement signboards and precision reflection strips for electronic industry, round pipes for medical care and so on. Continuous innovations, researches and developments have enabled us to produce even more versatile products.
Currently our processing technology of extrusion has been promoted and break through, we manufacture fender with embossment, new technology of screwed T-molding, decorative strip made of plastic / aluminum alloy, finished cabinet door with aluminum frame, as well as wallboard. We provide novel and wide range of choice to customers.
Our company has persisted for more than 30 years experience of continued research for innovative techniques and struggled for developing innovative techniques. We worked hard to develop a series of unique, first quality, reasonable price products that meet the needs of customers.
In the future, we wish even more to continue our work concepts of being steady and solid in serving customers and creating mutually beneficial business opportunities with our customers.
Taiwan Hwan Yi's products are worth your trust!